ROB Oakeshott, the member for Lyne for the past five years, is retiring from politics.
After 17 years in public life – and three of them at the very heart of one of Australia's most turbulent political times – Mr Oakeshott will not contest the 2013 election.
"Now is the moment," he said. "I have done everything I said I was going to do – and done the best I can. Now it's up to others to try and do better.
"There is absolutely no fear whatsoever of the ballot box. It's not an issue of running and losing. If anything it's a respect for winning that makes me make a call now."
With the federal government purse strings opening to the tune of $30 million for two projects in the region just last week, the MP's office says that brings the total over five years to a whopping $1.2 billion for the electorate.
Still that wasn't enough to tempt Mr Oakeshott to extend his stay in the corridors of power.
"There is still more work to be done for our region and the country, but for me, I think the timing's right after 17 years.
"It's about doing the job – and that's the bit I have to be honest about with myself and everyone.
"I'm tired of it and I've got a family I love and that I'm sick of being away from."
After 12 years as a state MP, Mr Oakeshott won Lyne in a by-election following the resignation of former Nationals leader Mark Vaile in 2008.
JUST weeks after Prime Minister Julia Gillard named the date for the 2013 poll, Rob Oakeshott told the electorate he'd make a decision about his political career mid-March.
That timeframe blew out. After the budget in May, he said.
Then the MP held a series of community forums across his electorate, making eight stops, answering questions and shaking more hands than, well, a politician seeking re-election.
"They were encouraging me to stay," Mr Oakeshott said.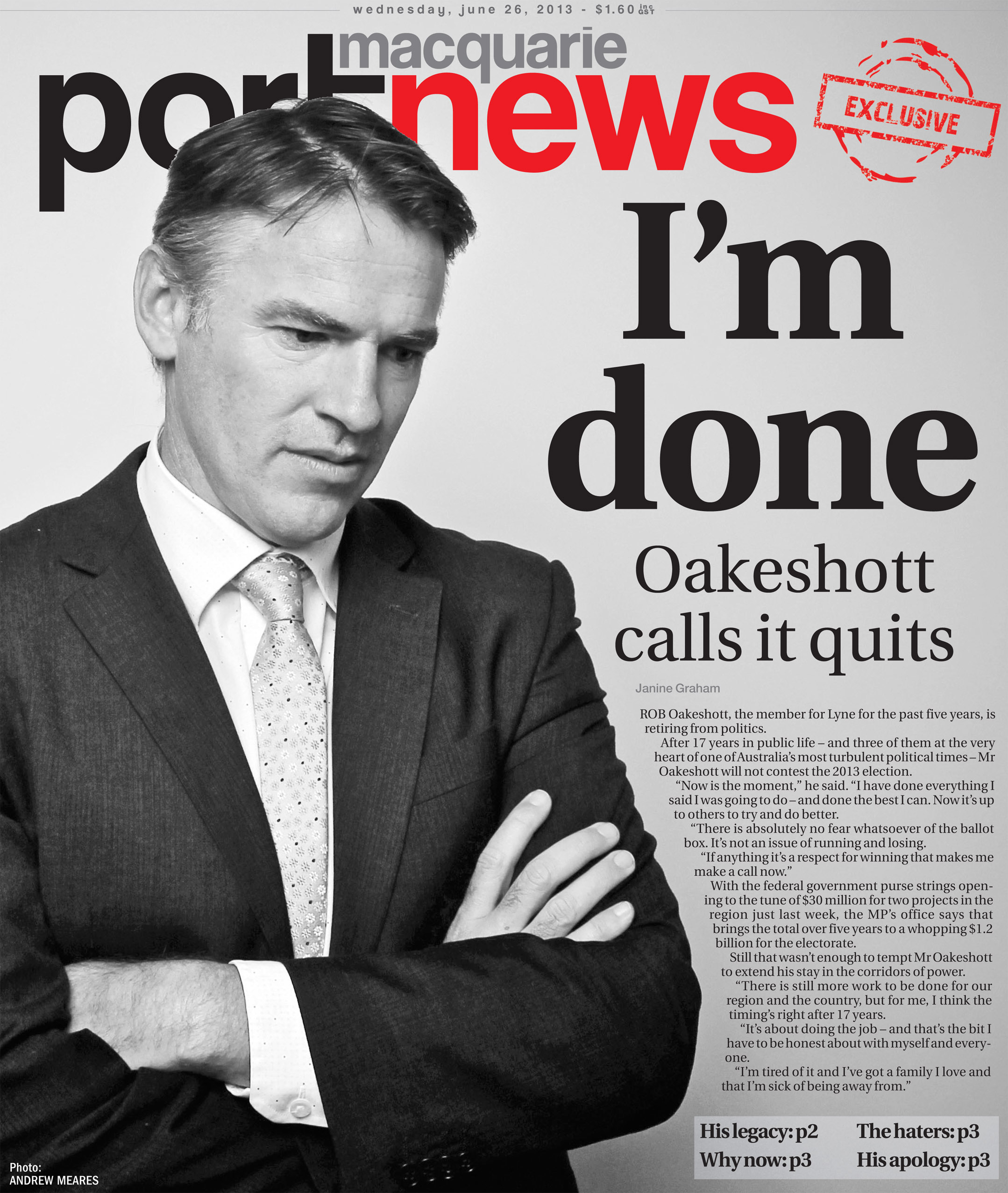 But it took another six weeks for this decision to be revealed. It was not, he assured, a tease. Rather, an announcement finely timed for two reasons.
"There was an announcement of $13.1 million going into the North Coast Institute of TAFE and an announcement of $15 million going into Charles Sturt University on oral health. Both of those were lineball calls and I was worried if I'd made an announcement earlier, governments may have made different decisions about where that money was allocated," he said.
Then there is the all-encompassing matter of the parliament which, for many months, has balanced on a knife-edge.
"The floor of the parliament is tight and the way people behave in parliament can change depending on what they know," Mr Oakeshott said.
ROB Oakeshott admits the past three years have been the toughest of his life – "no question".
The vitriol started even before that 17-minute speech. And when he threw his support behind Labor to form a minority government it continued. It continued relentlessly. And, Mr Oakeshott, expects nothing will change.
"People will say I'm running away but I look at it this way: There are those who go on the field and have a go. That's the country I love.
"There are those who sit on the sideline and are Monday experts and they're in another country someone else can have.
"Those who throw opinions around and try to bully and push members of parliament from the sidelines – they're nothing. Absolutely nothing."
SARA-JANE OAKESHOTT on the decision:
THERE are five people utterly delighted at today's announcement – Rob Oakeshott's young family.
"You only get one crack at being a father who's around," Mr Oakeshott said. "So for the next five or 10 years, that's the No.1 priority."
His wife is thrilled at the prospect of the future.
"We are excited as a family about being together for the next chapter of our lives," Sara-Jane said. "Rob has dedicated himself for so long to improving our community, and has delivered as much as he can. He's been as loyal to our community as he can, and he can do no more."
ROB Oakeshott recounts the first prime ministerial visit to Port Macquarie in 2009 with a sense of shame.
The hot topic was education. Protestors tried to block the official party leaving the airport. The Prime Minister's car was spat on.
"It was a divided town – all over education," Mr Oakeshott said. "Secondary wasn't talking to vocational, wasn't talking to tertiary – well, we didn't really have a tertiary…
"As soon as people started to talk to each other they worked out they could be more powerful collectively.
"Now we have gone from the laggard to a position of leadership. There's a lot of jealousy about our model and a lot of eyes from around Australia looking at how we're delivering regional education here."
The education strategy Mr Oakeshott has helped deliver is not accidental. At its essence is collaboration.
"It is, simply put, a new era of representation that puts local people before political parties and that puts community interests before vested interests. For us, this is a new era of place-based thinking, an alliance shaped entirely around the common care for our place and the common wealth of our country," he said then.
In the years since that speech and indeed since the community cabinet meeting in Port Macquarie, that approach has yielded almost $1.2 billion for the Lyne electorate.
About $160 million of that has gone towards education projects.
"In 2015 we will be the first regional location that has medicine and dentistry. The medicine is about pathways and collaboration – two universities and a TAFE talking to each other and delivering multiple benefits.
"Soon we will be an importer of 18-24-year-olds rather than an exporter."
OAKESHOTT on succession planning:
ROB Oakeshott's decision not to stand at the September 14 federal election effectively hands the seat of Lyne back to the Nationals.
The field for Lyne stands at three – Country Labor's Peter Alley, The Greens' Ian Oxenford and The Nationals' David Gillespie.
The latter two contested the 2010 poll. Mr Gillespie returned 34 per cent of first preferences, second behind Mr Oakeshott's 47 per cent, and Mr Oxenford a scrape over 4 per cent.
The immediate future of the seat has him worried, Mr Oakeshott, a onetime member of the National Party, admitted.
"A big part of my difficulty in letting go is that there is a sense of obligation that succession planning as a community is not looking good," he said. "But in the end I can't be responsible for that.
"Even if it was the National Party that had a really strong representative in the wings, I would be more relaxed and it would've been an easier decision. I almost feel a sense of apologising.
"There's a lot of people really wanting to step up to the plate to support me because they've seen everything that's gone on, but in the end I have to make decisions that work for me and my family.
"I do think in the next three years of a parliament I'd be a 90 per cent politician not a 100 per cent politician and that's not going into it with the right attitude."
It is, he insists, up to the community "to get organised over the next eight to 12 weeks".
Despite the tight timeframe, he believes the electorate has learned political lessons from the minority government.
"I think now there's a large slab of the community who won't tolerate indifference in representation – and that's a good thing. Results can be achieved by the community expecting representation to deliver. Don't accept excuses."
Since its formation in 1949, only Mr Oakeshott's five-year tenure has interrupted the Liberal-Country/National Party's reign in Lyne.
OAKESHOTT on the parliament:
IF a living, breathing parliament was the highlight of the past three years, Rob Oakeshott believes it was measured with an equally discernable nadir.
"The 43rd parliament was an opportunity for all of us, the members of the parliament and in the community to reach for the highest values, the best ideas and to grab some opportunity to deliver them.
"For some reason the parliament and the Australian community decided to shoot for the lowest values and the worst ideas.
"What I thought were fringe-dwellers in the public square have somehow found a way to be mainstream. "What are we doing?"
A record 500 pieces of legislative reform were signed off on and, just as importantly to Mr Oakeshott, government legislation rejected also set a new record.
"That's healthy – that means members have worked harder than ever before."
The 43-year-old also is thankful for the increasing number of people he believes are now engaged in the political process.
"Thank you to those who have cared enough about the community to be involved and who have helped deliver outcomes.
"To those who have participated for the right reasons – thank you."
To comment on this article, please email editor.portnews@ruralpress.com Include a name and contact number for verification purposes